Home
/ Articles posted by lovexstereo (Page 14)
We made it to the Top 3 International Acts by Culture Collide!
"The excessively danceable Love X Stereo from Seoul."
They even put our pic on the front! GROOVY ♥♥♥
컬쳐콜라이드 페스티벌에서 뽑은 10대 인터내셔널 밴드에서 저희가 3위를 차지했네요!
2위로 뽑힌 From The Airport도 축하드립니다
http://www.culturecollide.com/feed/detail/top_10_international_acts_culture_collide_los_angeles_2014#.VGOWyjSUexq
#CultureCollide #lovexstereo #FromTheAirport
Top 10 International Acts: Culture Collide Los Angeles 2014
If you were witness to our raucous, multicultural festival in Echo Park this October, you know the lineup was incredible. We loved each and every artist, but a select few truly won your hearts.
We asked which international bands you loved the most, and here's what you said:
1. Energetic 60s-esque pop group Taymir from the Netherlands.
2. Korean electro-rock lineup From the Airport.
>> 3. The excessively danceable Love X Stereo (above) from Seoul. <<
4. The rich, cultural sounds of Colombian artist Quantic.
5. Dance-punk Costa Rican band Alphabetics (pictured).
6. Canadian punks, PUP.
7. The dreamy, syrupy vocals of Australian artist, Gossling.
8. Indie-folk outfit, Solander from Sweden.
9. Polish pop group KAMP!
10. Stoner-pop trio DUNE RATS.
Love X Stereo is proud to announce our upcoming US showcases this Fall! We are hitting three festivals including Culture Collide, Chelsea Film Festival, and CMJ Music Marathon.
For Culture Collide, we're hitting San Francisco and Los Angeles joining well known bands as Cloud Nothings and more. // At Chelsea Film Festival, we will be performing at the after party, celebrating Korean film director Seyong Jo's very first US movie screening at CFF! // Last but not least, we're joining CMJ Music Marathon again this year, and showcasing two great shows in Manhattan.
Check the date and locations, and we'll see you very soon!!!!!!!!!!!!!!!!!!
러브엑스테레오가 요번 가을, 규모는 작지만, Culture Collide, Chelsea Film Festival, CMJ Music Marathon 등의 세 개 북미 페스티벌을 찍고 올 예정입니다.
우선 Culture Collide 공연은 샌프란시스코와 로스엔젤레스에서 펼쳐집니다. // Chelsea Film Festival에서는 애프터 파티에 설 예정인데요, 한국의 조세영 감독님의 영화 "Let's Dance"의 북미 최초 상영을 축하하는 좋은 자리가 될 것 같습니다. // .마지막으로 작년에 이어 또다시 CMJ Music Marathon에 참여하게 되었습니다. 맨하튼에서 두 개의 쇼케이스를 준비하고 있습니다.
미국에 계신 팬 여러분들, 날짜와 장소 확인하시고 조만간 뵈어요!!!
#lovexstereo #러브엑스테레오 #CultureCollide #ChelseaFilmFestival #LetsDance #CMJMusicMarthon #CMJ
Our new single "Hide&Seek" – BalconyTV live – is finally on air! Love, enjoy and share!
(Hide&Seek will be released in mid September.)  #balconytv
저희 신곡 "Hide&Seek" BalconyTV Seoul 라이브 영상이 드디어 업로드되었습니다. 
많이 감상해주시고, 공유해주세요!!! ♥♥♥ (9월에 싱글 발매됩니다.)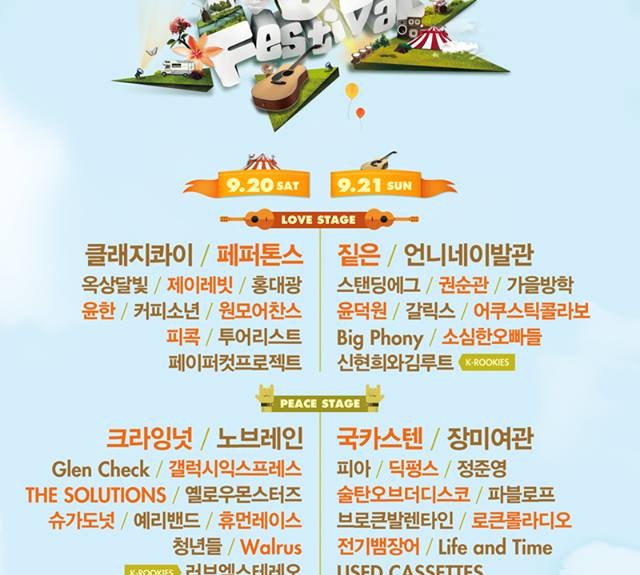 Love X Stereo will be performing at Let's Rock Festival for the first time. We'll be performing at Peace Stage on 12pm at the beautiful Nanji Hangang River Park! C U SOON!
K-루키즈로 선정되어 2014년 렛츠락페스티벌에 오르게 되어서 영광입니다. 저흰 9월 20일 전체 페스티벌의 포문을 여는 첫번째 아티스트로 출격하구요, 피스스테이지에서 12시에 뵙겠습니다!
#렛츠락페스티벌 #렛츠락 #letsrockfestival #letsrockfest #lovexstereo #러브엑스테레오 #K루키즈 #Krookies